USF HEALTH MORSANI COLLEGE OF MEDICINE MINORITY SCHOLARSHIP
This scholarship supports underprivileged Hispanic medical students to aid in the cost of pursuing their dreams. Most of the recipients are the first in their families not only to pursue a medical career but the first one to go to college or graduate from High School.
Meet the tblams Usf Health morsani COLLEGE of medicine minority scholarship recipient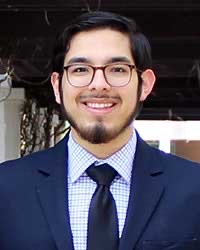 Hello, I am George Padilla. I graduated from USF and am now in my second year at MCOM. The Tampa Bay Latin American Medical Society has made a great impact on my ability to achieve the goals I have set for medical school and beyond. With my parents being the first in our families to graduate elementary school, I sometimes find it challenging to keep up with peers who have access to resources such as generational wealth and family doctors to help them with their studies. Scholarships like the TBLAMS USF Health Minority Scholarship help to level the playing field by alleviating the strain of purchasing extra practice exams, study resources, and equipment. This allows me to dedicate my time to my passions of learning medicine, conducting clinical research, and serving our communities with limited access to healthcare.
We support two undergraduates underprivileged Hispanic students for four years in pursue of a degree in the Health Science Profession. In the past, some of these students have become physicians.
meet our USF Latino scholarship recipient
Hello everyone! My name is Paolette Pimentel and I am a junior at USF majoring in health sciences with a concentration of health administration and biomedical science. 
I am a dual citizen in the United States and Dominican Republic. 
I am currently working at Tampa General Hospital. 
My career goal is to become a pediatric physician or a surgical physicians assist.
I wanted to thank you all for helping me achieve my dream and believing in me ! 
I couldn't do it with all of you! 



meet our usf latino scholarship recipient
Hi! My name is Gloria Flores, and I am the daughter of two amazing and hardworking Mexican immigrants. I am an undergraduate at the University of South Florida majoring in Health Sciences with a minor in Infection Control. My aspiration is to one day become an epidemiologist and utilize my skills and knowledge to help minorities receive the health care they need and deserve. When I'm not studying or in class, I love to spend time with my family and friends, go on hikes, and play soccer.
throughout the year we also collect toys or have food drives to help other charities serving our communities